Of the boring projects that is! Well, ok. They're not bad projects, I'm just bored with them because it's the same old stitch over and over. I need something with interest, something fun...
Last Friday night I valiantly tried to finish my socks, but you know it's time to put them down, when you're actually catching yourself dozing off mid-stitch. I managed to get all the way to half way through the toe decreases, so figured I'd earned the time off to sleep by then anyways! Saturday morning I was up bright and early and managed to finish off the socks, darn in the ends and wear them that day! Oh happy me! They are so comfy in my shoes. Lovin' them! :)
Sunday morning I decided I should have a little reward for being so good about finishing my socks, so I cast on for the first of what is to be three
Summerlin
. Let me tell you this is an awesome pattern and if you have a little girl to knit for and you posess any basic sewing skills, go cast on now. You won't regret it. It takes no time at all! I decreased the 1 year old size in equal increments to create a 6 month old size, then again to create a 3 month old size. I finished the baby bodices on Sunday and the bigger one on Monday.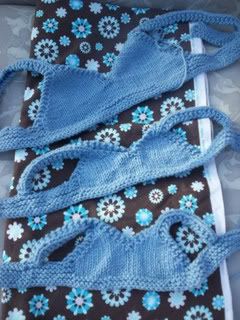 I also did a couple more inches on my Montego Bay Scarf and at SnB, Wednesday night, I worked on the sleeves of my Gathered Pullover! I feel good that I've been so productive! I may switch gears for a bit though and focus on some sewing, but we'll see. I do seem to always revert back to my obsession with string and sticks no matter what intentions I have for fabric and thread. That being said, this week I did buy some lovely fabric for a little summer frock, and some black and cream satin for a bit of a fancier dress. I should also get my hiney in gear and make G and new national vest for the Mid-Canada Competition next month. I've had the velvet for it going on two years now. Although I suppose that's really nothing. I've had the velvet for a new highland jacket for her for about four years. Ahem. Procrastination perhaps?
Oh! As promised, I thought I'd share a picture of G and her dance teacher, Lor(who also happens to be (BF)G's neice)and baby Emilie. Emilie got all sorts of lovely comments that day on her outfit. I'm sure my head was quite swollen from all the praise and I'm surprised it actually fit through the door by the time I got back home!