I promised to put up the tutorial for the super simple baby hat I made last week during KCWC, so here it is! If there's anything unclear or missing don't hesitate to let me know!!
Super Simple Knit Baby Hat
Supplies:
knit fabric - for this you can use remnants, old t-shirts, etc. You will need approximately 18" wide by 8" tall for this project. You will also need a contrast band cut 13 3/4" wide by 2 3/4" long with the stretch going across the width.
other requirements - ball point needle, measuring tape, paper, pencil, scissors, sewing machine, thread and water soluble fabric marker or tailor's chalk
The Hat!
Let's get started shall we? We'll begin by making our pattern!
With an 8 1/2 x 11" sheet of paper, draw a dome shape that measures 8 1/2" wide and 5 1/2" tall at it's center point. When you are happy with the curve of your dome, cut out your pattern. (note: an easy tip for making your pattern would be to draw it out on freezer paper, then you can iron it directly on to your fabric, shiny side down and it will stay put while you cut it out, eliminating the need for pinning or weights. Once you've cut out your fabric simply peel the freezer paper off. This is a great method when working with knits!)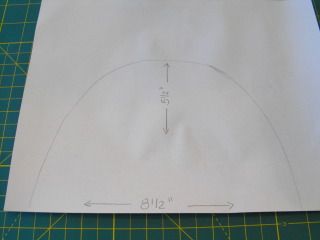 Step 1
Next you'll cut out your fabric. Lay your pattern piece on the knit fabric which you will have folded in half width wise. Use your pattern weight (or if you must your pins. I promise I won't judge!) and cut it out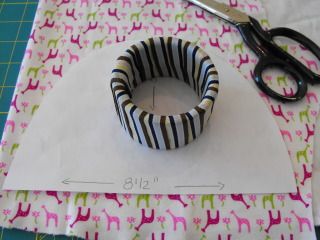 Step 2a
You will now have two peices of your dome shape and one band that you have already cut out.
Step 2b
For the next step, fold your dome shapes in half as shown below. Mark the center point and then mark 2" directly below the centre point on the wrong side of the fabric. Do this on both halves.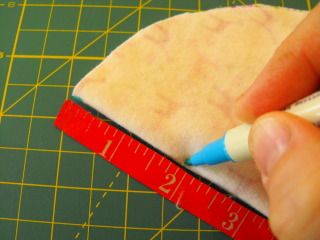 Step 3
Now the fun begins! Thread your machine, making sure you have a ball point needle in the machine, place your two dome shapes right sides together and begin by sewing around the outside edge of your dome using a 1/2" seam allowance and either a zig zag stitch or stretch stitch, backstitching at beginning and end. I also have successfully used a regular straight stitch - you might want to just lenghten your stitch length a smidge.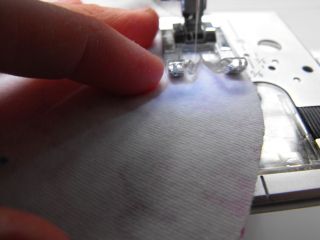 Step 4
Once you have finished off the seam you will find your center mark that you made in step 3. Pull the hat together and smooth it out so that it is flat with the 2" markings on either side (your seam that you have just sewn will run down the center front and back at this point) and mark 1/2 " down from center.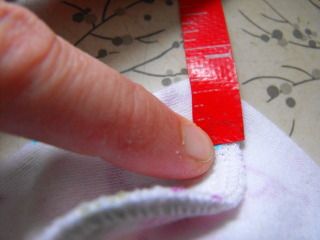 Step 5
Stitch from edge to edge creating a dart along top centre following your markings. You can then trim the excess off leaving a 1/4" seam allowance.
Step 6a
Step 6b
Next you will create the contrast band. Fold your 13 3/4" x 2 3/4" strip in half lenghtwise, right sides together. Stitch a seam down the short end of the your folded strip using a 1/4" seam allowance so that it forms a tube.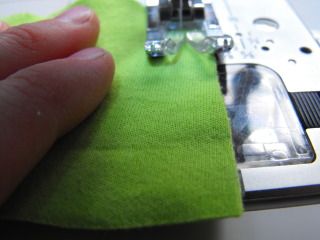 Step 7
Next fold your tube in half from bottom to top, wrong sides together and press. Find the center back of your hat (to find center back, fold the hat in half and follow the line of your dart down to the bottom) and line up the center seam of your contrast band with the center back of the hat, raw edges and right sides together. Pin at center back then find the center front of hat and band and pin those together. Stitch using a 3/8" seam allowance, stretch the band to fit as you go.
Step 8
You're almost there! For your final step, press the seam allowance of the contrast band up towards the hat, then top stitch approximately 1/8" inch from the seam on the hat to finish it off. Lightly press.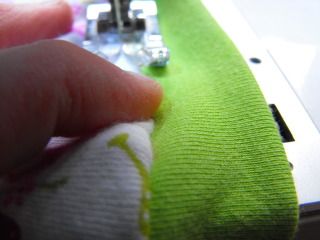 Step 9
Your done! Now go find a sweet little baby to put it on! This hat is meant to fit approximately a 3 month old. Although as we all know babies do come in all shapes and head sizes, so it can really go from newborn to probably six months depending on the individual. (My giant babies would have probably been able to wear this size closer to newborn - by three months old Little Toddler Man was in 12 month clothes...)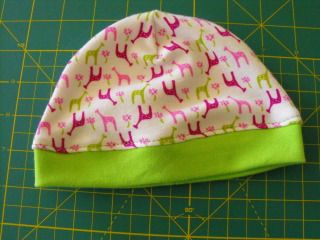 A Super Simple Baby Hat!