So... Last week was
Kids Clothes Week Challenge
. You know, the challenge I
always
say I'm going to do and then for one reason or another I don't do anything sewing related all week.
This fall I was
determined
to be successful. And while I may have not made the entire seven hour challenge I did get a good five hours in, which is a good five hours more than I've ever managed for KCWC.
I even did a little baby hat pattern up too (which I'll try to get organized and show you later on this week). So all in all I'm calling it a success!
Here's my two completed projects for the week (I also almost finished a pair of pjs for Baby Boy but had some technical difficulties with the Goodtime Gal machine - hopefully it's just in need of a new needle because Old Faithful is still on the fritz and needing repair. I'd be ever so sad if I had no machine. Eeek! Doesn't bear thinking about!)
Fishsticks Designs lap gown from the Little One Layette pattern and self drafted hat pattern - yet another baby gift for a friend!
I've been busily sewing and knitting prior to KCWC too. Remember the
doll Mei Tai
I showed you a few weeks ago? It was part of a birthday swap gift for my October Mamas group on Rav. Now that the birthday girl, her mama and her brand new baby brother have received their parcel I can show you the rest. I knew the little one was getting a baby doll so I set to work making a wardrobe. I used a vintage (although I hesitate to call it vintage when it's 40 years old, ahem, which makes it younger than me...) pattern for the dress, cape, sunsuit, and romper, a 20 year old pattern for the tee and jeans and modern patterns (modified slightly so they would match) for the toddler and doll pjs. The sweater and booties were free patterns from Ravelry. The diapers are my own design.
A new wardrobe for dolly
Matching toddler and doll jammies!
For baby I made a flannel swaddler blanket using an
online tutorial
I'd found when expecting Baby Boy, but never got around to making. Too bad too. He was the swaddling king when he was tiny... I was really happy with how it turned out and think I'll add it to my list of baby gift possibilities!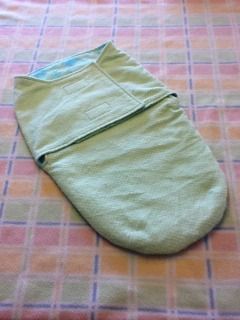 Snuggly soft swaddler
For mama I made a mug rug and coffee mug sleeve thinking they might come in handy with a new baby in the house!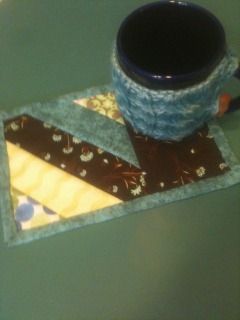 Mug rug and sleeve
Let's see. What else was there? Ah yes! Some knitting!
First up another baby swaddle blanket for a gift. This one is a quick knit on big needles with big chunky yarn. I used the
Button Up Baby Wrap
pattern available on Ravelry. It fits Blue Bear just right!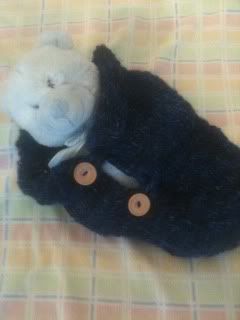 Wrap knit in a soft wool/cotton blend
I also knit a pair of socks from my "Summer Mama" friend Joeli's new book,
Tiny Treads
. I test knit Sandman and am really pleased how they turned out! I was also really excited when another Ravelry friend gifted me a copy of the book as a surprise! Thanks again Sally!! I'm definitely looking forward to trying out more of Joeli's patterns!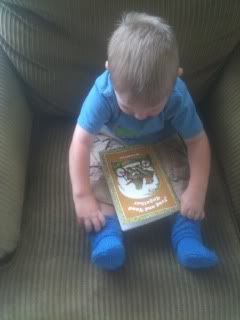 Baby Boy loves his Sandman socks!
So that's about it for me, but before I go I have to show off the beautiful handiwork of a couple of my friends! First up is the sweater vest (which coincidentally is another of Joeli's patterns "
Pepo Pie
") that was knit by my friend Lin as part of Baby Boy's birthday swap parcel - both baby boy and I love it!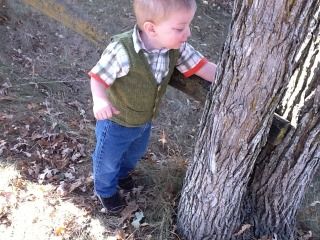 Looking like quite the little gentleman in his vest
I also got a wonderful fall surprise in the post a little while ago from my friend Kim! Aren't these socks perfect for conjuring up thoughts of all the very best things about fall? Leaves turning colour, candy corn and very best of all pumpkin spice lattes?
Love my fall socks!!!
Thank you Lin and Kim for your gifts of beautiful knitting!!!