So, I was loading a year's worth of photos from my camera onto my laptop the other day when I came across a set of pictures I'd taken last winter thinking I would show you how to make some really easy pattern weights. Guess I forgot. Better late than never. Right?
I learned how to "properly" cut out fabric back in Fashion Design. We didn't pin our patterns to the fabric, but instead used weights. Not pretty ones mind you. They were unexciting metal. Pins can be a nasty little piece of work sometimes. They can leave holes in some fabrics, cause runs in others, they can also distort the fabric. With little ones under foot pins can pose a whole other realm of madness. (a certain three year old likes to sneak off with my pins and stick them into the upholstery. Not cool! Especially when you collapse into the armchair at the end of the evening to watch some mindless tv and you sit on a dozen or so pins - thankfully sharp side down, but still...) Yikes! Why set yourself up for mishap.
Don't get me wrong. There is definitely the odd occassion when you're going to want to pin something, but let's save that for when we're sewing shall we?
Pardon the poor quality of the photos and excuse any messy counters you may catch a glimpse of. There is precisely one place in this house where I can safely plug in my glue gun sort of out of reach of the "go go gadget arms" brothers and that just so happens to be right by the stove.
So here we go! I can guarantee the most difficult task of this whole endeavor will be picking out your hardware.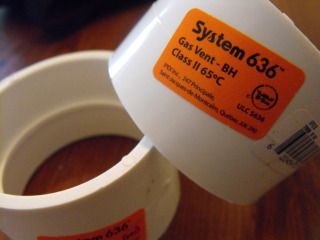 Go to the hardware store and grab yourself something that looks like this. Get a bunch. They're dirt cheap.
Find a couple yards of fun ribbon and start winding!
Flip the very end over about 1/4 - 3/8th of an inch (um... it would appear I forgot to turn the raw edge under on this one.) and squeeze a line of glue along the end
Tuck that edge down on the inside nice and snug
You're done! Wasn't that the easiest thing ever?!?
Now the next time you cut out a pattern you can leave your pins in your sewing box and weigh the pattern down instead! Happy sewing!